Hi!
I am experiencing what appears to be a deadlock in my application during certain type of Sentinel failover, when master and sentinel instances on the same node are being shut down simultaneously. I have written a simple prototype application that can reliably reproduce a problem.
The said prototype works in two modes, let's call them redis-interaction mode and redis-kill mode. redis-interaction mode emulates a relatively intensive interaction with redis (get/set operations and redisClient.Info are continuously executed in separate threads). redis-kill mode searches for current master in a Sentinel setup and shuts it down (both master and its sentinel), then, after a delay restarts it. That part is executed by means of redis-cli and plink to send restart commands, so ServiceStack libraries are not used. While redis-kill is running, redis-interaction hangs due to a lock after some time (after several master restarts).
My sentinel runs on three debian machines, one for master and two for slaves. I can also reproduce the problem on a windows sentinel setup using https://github.com/ServiceStack/redis-config.
I can send you all additional information if needed (including a dump file and a prototype).
Redis version: 4.0.8
ServiceStack version: 5.0.2 and 5.1.0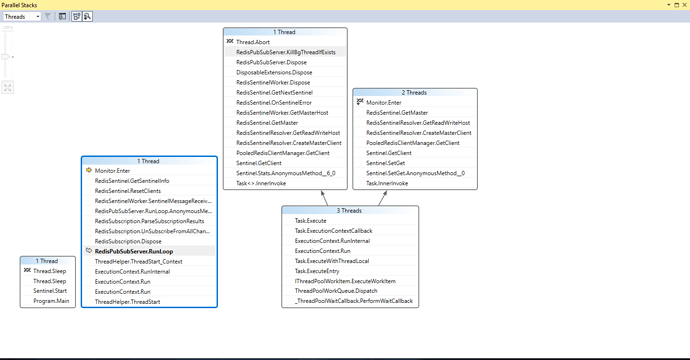 It appears that RedisPubSubServer.KillBgThreadIfExists Thread (uppermost thread on a screenshot) tries to abort a RedisSentinel.GetSentinelInfo Thread (second from the left on a screenshot). KillBgThreadIfExists is already inside a lock (validSentinelWorker) block. At the same time, GetSentinelInfo Thread is also trying to acquire that very same lock while being inside a finally block (RedisPubSubServer.RunLoop method). I think that may be the reason why this.bgThread.Abort inside KillBgThreadIfExists Thread hangs.
I also posted a comment on a relevant issue on github