Hi,
I'm running ubuntu 16.04 with the latest mono (5.10) installed. When I try to update the ServiceStack XS addin via the addin-manager in monodevelop. I get the error shown in the attached image.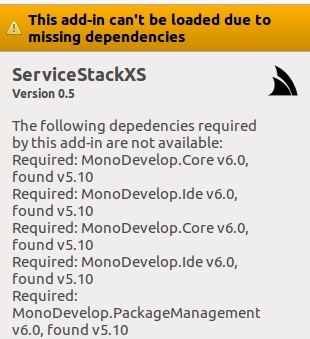 I tried to uninstall then install the addin again. But now I got this error: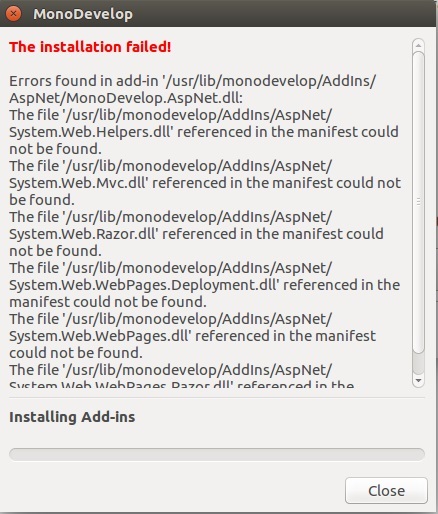 The files it it searching for is located, on my machine, here :
/usr/lib/mono/4.5/
and not here:
/usr/lib/monodevelop/Addins/Asp.net
I found this blogpost, stating that monodevleop is broken on ubuntu 16.04
https://brendaningram.com/article/how-to-fix-monodevelop-on-ubuntu-16-04/
and this issue on ubuntu bugtracker:
I added the GPG signing key and downgraded monodevelop to 5.10.0.871-0xamarin2. As explained in the issue linked above. This helped somewhat. Now atleast my "Mono soft debugger support for asp.net" is working again. And now I got a little furter when trying to install the Servicestack SS plugin. But it still failed with a warning saying it requires some Monodevelop v6.0 packages.
So I guess I need to update monodevelop to 6.0. But then I have to find some repos which has beta or alpha builds of monodevelop.