I have a Time column in SQL Server. Historically this would be mapped to a TimeSpan in C# world. However I want to utilize the TimeOnly property.
I have a definition that looks as follows:


Then in code: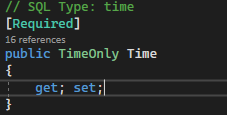 However when saving this object I get the following exception:


When trying to read out the value, it is always "00:00:00".
I am assuming I will need to implement some kind of converter to support this, but am not sure where to start or what exactly to convert between.
Can you please provide some assistance?