I am using the JsonServiceClient in a Typescript application leveraging dtos generated through the "types/typescript" NativeTypes plugin.
The "errors" collection on the deserialized response object is consistently empty though :

I can see that there is definitely an errors collection being returned from the server :

the calling code currently looks like this (client is a JsonServiceClient):

the Request dto looks like this :

and the Response dto looks like this :

both the ResponseStatus and ResponseError objects exist in the generated dtos file (and look correct) :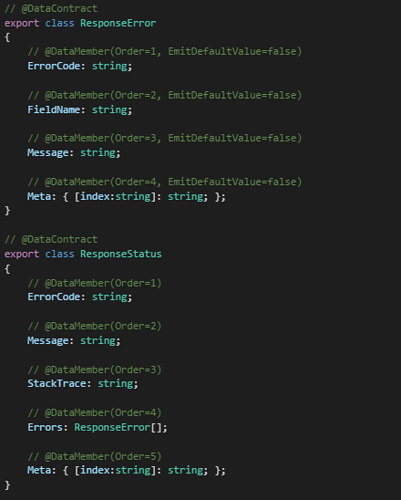 and there are no warnings/errors generated by the JsonServiceClient during the post/response-handling/deserialization process (other than the expected 400 error which contains the validation response) :
I have tried changing the client request to :

the result is the same.
any assistance would be greatly appreciated.